Alessandro De Marchi (Cannondale) claimed a gutsy solo victory on the final stage of 2013 Critérium du Dauphiné, 24 seconds before Chris Froome (SKY) crossed the finish line. Richie Porte (SKY) rolled in seven seconds further back to seal a fine fourth place in Risoul. Andrew Talansky (GRS) was able to intersect the Team Sky duo as they climbed towards the finish line. Those results earned Froome his fourth stage race success of the season, 58 seconds ahead of Porte. Michael Rogers (TST) had began Sunday's stage in third place overall fell back on the final climb of the day and had to be content with sixth overall after Daniel Moreno (Katusha) snatched the final place on the podium, 2min 12sec down on Froome.
Race Report
The concluding stage had taken the riders 155.5km from Sisteron and De Marchi had formed part of a 24-man group who escaped the clutches of the peloton early in the day. Gianni Meersman (Omega Pharma – Quick-Step) was also in that move, and tied up the points classification by winning the day's sole intermediate sprint.
That bunch eventually splintered on the Col de Vars when De Marchi sprang clear with Travis Meyer (Orica-GreenEDGE), and after cresting the summit, the pair were joined by Tim Wellens (Lotto-Belisol), Alberto Losada (Katusha) and Manuel Quinziato (BMC) in an elite five-man move. Wellens would forge ahead on the final climb of the day, but was passed in the final 5km by the impressive De Marchi, who then battled on alone through the fog for the biggest result of his career.
The real action was taking place behind however, and the pace Team Sky set on final rise decimated the field before Froome and Porte left their rivals behind in a formidable show of strength. Talansky did brilliantly to battle back in the dying stages, but Froome refused to be outpaced before the line, and produced one last kick to seal second place on the day. The result also saw Team Sky top the team classification with over 12 minutes to spare.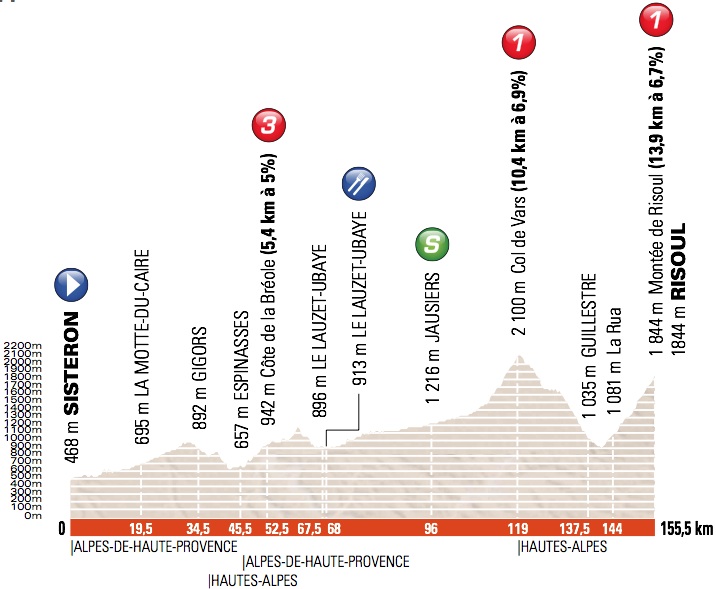 Information from Team Sky website used in the race report.
Race Results
Critérium du Dauphiné (2013) - Stage 8
Sisteron to Risoul (156km)
9 Jun 2013
Stage
| Position | Name | Nationality | Team | Time |
| --- | --- | --- | --- | --- |
| 1 | DE MARCHI, Alessandro | ITA | Cannondale Pro Cycling | 4:28:09 |
| 2 | FROOME, Chris | GBR | SKY PROCYCLING | 24 |
| 3 | TALANSKY, Andrew | USA | Garmin-Sharp | |
| 4 | PORTE, Richie | AUS | SKY PROCYCLING | 31 |
| 5 | FUGLSANG, Jakob | DEN | ASTANA | 38 |
| 6 | VALVERDE, Alejandro | ESP | MOVISTAR | 49 |
| 7 | RODRIGUEZ OLIVER, Joaquin | ESP | KATUSHA | |
| 8 | MORENO FERNANDEZ, Daniel | ESP | KATUSHA | |
| 9 | NAVARRO GARCIA, Daniel | ESP | COFIDIS, LE CREDIT EN LIGNE | 55 |
| 10 | DENNIS, Rohan | AUS | Garmin-Sharp | +1:00 |
| 11 | CUNEGO, Damiano | ITA | LAMPRE - ISD | +1:04 |
| 12 | SANCHEZ GONZALEZ, Samuel | ESP | EUSKALTEL - EUSKADI | |
| 13 | WELLENS, Tim | BEL | LOTTO BELISOL | +1:41 |
| 14 | CONTADOR VELASCO, Alberto | ESP | Saxo Tinkoff | +1:55 |
| 15 | NIEVE ITURALDE, Mikel | ESP | EUSKALTEL - EUSKADI | |
| 16 | ROGERS, Michael | AUS | Saxo Tinkoff | |
| 17 | THOMAS, Geraint | GBR | SKY PROCYCLING | |
| 18 | GALLOPIN, Tony | FRA | Radioshack Leopard | +2:31 |
| 19 | GENIEZ, Alexandre | FRA | FDJ-BIG MAT | |
| 20 | CLEMENT, Stef | NED | Blanco | |
| 21 | ZUBELDIA AGIRRE, Haimar | ESP | Radioshack Leopard | |
| 22 | SILIN, Egor | RUS | ASTANA | |
| 23 | MEYER, Travis | AUS | ORICA-GREENEDGE | +3:02 |
| 24 | KENNAUGH, Peter | GBR | SKY PROCYCLING | +3:27 |
| 25 | BUSCHE, Matthew | USA | Radioshack Leopard | +3:52 |
| 26 | NERZ, Dominik | GER | BMC RACING | +3:56 |
| 27 | BARGUIL, Warren | FRA | ARG | |
| 28 | QUINZIATO, Manuel | ITA | BMC RACING | |
| 29 | TEN DAM, Laurens | NED | Blanco | |
| 30 | SERPA PEREZ, Jose Rodolfo | COL | LAMPRE - ISD | |
| 31 | BOASSON HAGEN, Edvald | NOR | SKY PROCYCLING | +4:54 |
| 32 | BOOKWALTER, Brent | USA | BMC RACING | +4:57 |
| 33 | BAGOT, Yohan | FRA | COFIDIS, LE CREDIT EN LIGNE | +5:35 |
| 34 | LOSADA ALGUACIL, Alberto | ESP | KATUSHA | +5:39 |
| 35 | VAN DEN BROECK, Jurgen | BEL | LOTTO BELISOL | +5:56 |
| 36 | FLECHA, Juan Antonio | ESP | VACANSOLEIL-DCM | +6:49 |
| 37 | BOECKMANS, Kris | BEL | VACANSOLEIL-DCM | +7:37 |
| 38 | LUTSENKO, Alexey | KAZ | ASTANA | +8:17 |
| 39 | PAULINHO, Sergio Miguel Moreira | POR | Saxo Tinkoff | +8:51 |
| 40 | MATTHEWS, Michael | AUS | ORICA-GREENEDGE | +9:24 |
| 41 | EIJSSEN, Yannick | BEL | BMC RACING | +9:49 |
| 42 | WETTERHALL, Alexander | SWE | TEAM NETAPP - ENDURA | +10:04 |
| 43 | SULZBERGER, Wesley | AUS | ORICA-GREENEDGE | |
| 44 | DURET, Sébastien | FRA | BRETAGNE - SCHULLER | |
| 45 | MARTINEZ DE ESTEBAN, Egoi | ESP | EUSKALTEL - EUSKADI | +10:48 |
| 46 | GARATE, Juan Manuel | ESP | Blanco | |
| 47 | PATERSKI, Maciej | POL | Cannondale Pro Cycling | |
| 48 | STANNARD, Ian | GBR | SKY PROCYCLING | +12:32 |
| 49 | KIRYIENKA, Vasili | BLR | SKY PROCYCLING | |
| 50 | CORDEEL, Sander | BEL | LOTTO BELISOL | |
| 51 | LE MEVEL, Christophe | FRA | COFIDIS, LE CREDIT EN LIGNE | +12:35 |
| 52 | DIDIER, Laurent | LUX | Radioshack Leopard | +12:59 |
| 53 | CASTROVIEJO NICOLAS JONATHAN, | ESP | MOVISTAR | +13:29 |
| 54 | MADRAZO RUIZ, Angel | ESP | MOVISTAR | |
| 55 | IZAGIRRE INSAUSTI, Gorka | ESP | EUSKALTEL - EUSKADI | |
| 56 | BAUER, Jack | NZL | Garmin-Sharp | |
| 57 | KOREN, Kristijan | SLO | Cannondale Pro Cycling | |
| 58 | ASTARLOZA CHAURREAU, Mikel | ESP | EUSKALTEL - EUSKADI | |
| 59 | FAIRLY, Caleb | USA | Garmin-Sharp | |
| 60 | SICARD, Romain | FRA | EUSKALTEL - EUSKADI | |
| 61 | BILBAO, Peio | ESP | EUSKALTEL - EUSKADI | |
| 62 | ERVITI OLLO, Imanol | ESP | MOVISTAR | |
| 63 | FEDRIGO, Pierrick | FRA | FDJ-BIG MAT | |
| 64 | GAVAZZI, Francesco | ITA | ASTANA | +13:39 |
| 65 | SEELDRAEYERS, Kevin | BEL | ASTANA | |
| 66 | LINDEMAN, Bertjan | NED | VACANSOLEIL-DCM | +14:27 |
| 67 | POELS, Wouter | NED | VACANSOLEIL-DCM | |
| 68 | GRIVKO, Andriy | UKR | ASTANA | +14:34 |
| 69 | BAZAYEV, Assan | KAZ | ASTANA | |
| 70 | PIMENTA COSTA MENDES, José Joao | POR | TEAM NETAPP - ENDURA | +14:43 |
| 71 | HOOGERLAND, Johnny | NED | VACANSOLEIL-DCM | +15:25 |
| 72 | DAMUSEAU, Thomas | FRA | ARG | |
| 73 | SARMIENTO TUNARROSA, Cayetano José | COL | Cannondale Pro Cycling | |
| 74 | QUÉMENEUR, Perrig | FRA | TEAM EUROPCAR | +15:33 |
| 75 | LADAGNOUS, Matthieu | FRA | FDJ-BIG MAT | +16:22 |
| 76 | SCHILLINGER, Andreas | GER | TEAM NETAPP - ENDURA | +16:34 |
| 77 | BARTA, Jan | CZE | TEAM NETAPP - ENDURA | |
| 78 | IRIZAR ARANBURU, Markel | ESP | Radioshack Leopard | +18:44 |
| 79 | TANKINK, Bram | NED | Blanco | |
| 80 | BODNAR, Maciej | POL | Cannondale Pro Cycling | +19:12 |
| 81 | CANUTI, Federico | ITA | Cannondale Pro Cycling | |
| 82 | VANENDERT, Dennis | BEL | LOTTO BELISOL | |
| 83 | VANDBORG, Brian | DNK | Cannondale Pro Cycling | |
| 84 | VACHON, Florian | FRA | BRETAGNE - SCHULLER | |
| 85 | SEPULVEDA, Eduardo | ARG | BRETAGNE - SCHULLER | +19:52 |
| 86 | LAENGEN, Vegard Stake | NOR | BRETAGNE - SCHULLER | |
| 87 | MEERSMAN, Gianni | BEL | OMEGA PHARMA-QUICKSTEP | +20:19 |
| 88 | SZMYD, Sylvester | POL | MOVISTAR | +21:02 |
| 89 | IGNATENKO, Petr | RUS | KATUSHA | +21:05 |
| 90 | LAGUTIN, Sergey | UZB | VACANSOLEIL-DCM | +22:12 |
| 91 | CLARKE, Will | AUS | ARG | +22:40 |
| 92 | ARNDT, Nikias | GER | ARG | +23:42 |
| 93 | GERARD, Arnaud | FRA | BRETAGNE - SCHULLER | +24:40 |
| 94 | GESLIN, Anthony | FRA | FDJ-BIG MAT | |
| 95 | RICHEZE, Ariel Maximiliano | ARG | LAMPRE - ISD | |
| 96 | GAUTIER, Cyril | FRA | TEAM EUROPCAR | |
| 97 | CHERNETSKI, Sergey | RUS | KATUSHA | |
| 98 | BONO, Matteo | ITA | LAMPRE - ISD | |
| 99 | GARCIA AMBROA, Ricardo | ESP | EUSKALTEL - EUSKADI | |
| 100 | COPPEL, Jerome | FRA | COFIDIS, LE CREDIT EN LIGNE | |
| 101 | REZA, Kévin | FRA | TEAM EUROPCAR | |
| 102 | VICHOT, Arthur | FRA | FDJ-BIG MAT | |
| 103 | TAARAMAE, Rein | EST | COFIDIS, LE CREDIT EN LIGNE | |
| 104 | BIDEAU, Jean-Marc | FRA | BRETAGNE - SCHULLER | |
| 105 | VEILLEUX, David | CAN | TEAM EUROPCAR | +26:01 |
| 106 | DOCKER, Mitchell | AUS | ORICA-GREENEDGE | |
| 107 | VALENTIN, Tristan | FRA | COFIDIS, LE CREDIT EN LIGNE | |
| 108 | MOLARD, Rudy | FRA | COFIDIS, LE CREDIT EN LIGNE | +26:05 |
| 109 | FONSECA, Armindo | FRA | BRETAGNE - SCHULLER | +36:17 |
| 110 | GUILLOU, Florian | FRA | BRETAGNE - SCHULLER | +36:40 |
| 111 | LOPEZ GARCIA, David | ESP | SKY PROCYCLING | DNF |
| 112 | DUGGAN, Timothy | USA | Saxo Tinkoff | DNF |
| 113 | HERNANDEZ BLAZQUEZ, Jesus | ESP | Saxo Tinkoff | DNF |
| 114 | SÖRENSEN, Nicki | DEN | Saxo Tinkoff | DNF |
| 115 | VAN DE WALLE, Jurgen | BEL | LOTTO BELISOL | DNF |
| 116 | HUSHOVD, Thor | NOR | BMC RACING | DNF |
| 117 | SANTAROMITA, Ivan | ITA | BMC RACING | DNF |
| 118 | GOOS, Marc | NED | Blanco | DNF |
| 119 | SLAGTER, Tom Jelte | NED | Blanco | DNF |
| 120 | TANNER, David | AUS | Blanco | DNF |
| 121 | KING, Benjamin | USA | Radioshack Leopard | DNF |
| 122 | GERRANS, Simon | AUS | ORICA-GREENEDGE | DNF |
| 123 | CLARKE, Simon | AUS | ORICA-GREENEDGE | DNF |
| 124 | TEKLEHAYMANOT, Daniel | ERI | ORICA-GREENEDGE | DNF |
| 125 | MATE MARDONES, Luis Angel | ESP | COFIDIS, LE CREDIT EN LIGNE | DNF |
| 126 | FERNANDEZ, Koldo | ESP | Garmin-Sharp | DNF |
| 127 | HOWES, Alex | USA | Garmin-Sharp | DNF |
| 128 | RATHE, Jacob | USA | Garmin-Sharp | DNF |
| 129 | BOUHANNI, Nacer | FRA | FDJ-BIG MAT | DNF |
| 130 | ELISSONDE, Kenny | FRA | FDJ-BIG MAT | DNF |
| 131 | SOUPE, Geoffrey | FRA | FDJ-BIG MAT | DNF |
| 132 | VOECKLER, Thomas | FRA | TEAM EUROPCAR | DNF |
| 133 | ROLLAND, Pierre | FRA | TEAM EUROPCAR | DNF |
| 134 | CHAVANEL, Sylvain | FRA | OMEGA PHARMA-QUICKSTEP | DNF |
| 135 | KWIATKOWSKI, Michal | POL | OMEGA PHARMA-QUICKSTEP | DNF |
| 136 | MAES, Nikolas | BEL | OMEGA PHARMA-QUICKSTEP | DNF |
| 137 | SERRY, Pieter | BEL | OMEGA PHARMA-QUICKSTEP | DNF |
| 138 | VELITS, Martin | SVK | OMEGA PHARMA-QUICKSTEP | DNF |
| 139 | HERRADA LOPEZ, José | ESP | MOVISTAR | DNF |
| 140 | TERUEL ROVIRA, Eloy | ESP | MOVISTAR | DNF |
| 141 | DE GENDT, Thomas | BEL | VACANSOLEIL-DCM | DNF |
| 142 | DE LA CRUZ MELGAREJO, David | ESP | TEAM NETAPP - ENDURA | DNF |
| 143 | KREDER, Michel | NED | Garmin-Sharp | DNF |
| 144 | BERHANE, Natnael | ERI | TEAM EUROPCAR | DNF |
| 145 | MARTIN, Tony | GER | OMEGA PHARMA-QUICKSTEP | DNF |
General Classification
| Position | Name | Nationality | Team | Time |
| --- | --- | --- | --- | --- |
| 1 | FROOME, Chris | GBR | SKY PROCYCLING | 29:28:46 |
| 2 | PORTE, Richie | AUS | SKY PROCYCLING | 58 |
| 3 | MORENO FERNANDEZ, Daniel | ESP | KATUSHA | +2:12 |
| 4 | FUGLSANG, Jakob | DEN | ASTANA | +2:18 |
| 5 | NAVARRO GARCIA, Daniel | ESP | COFIDIS, LE CREDIT EN LIGNE | +2:20 |
| 6 | ROGERS, Michael | AUS | Saxo Tinkoff | +3:08 |
| 7 | VALVERDE, Alejandro | ESP | MOVISTAR | +3:12 |
| 8 | DENNIS, Rohan | AUS | Garmin-Sharp | +3:24 |
| 9 | SANCHEZ GONZALEZ, Samuel | ESP | EUSKALTEL - EUSKADI | +4:25 |
| 10 | CONTADOR VELASCO, Alberto | ESP | Saxo Tinkoff | +4:27 |
| 11 | CLEMENT, Stef | NED | Blanco | +4:39 |
| 12 | GENIEZ, Alexandre | FRA | FDJ-BIG MAT | +7:17 |
| 13 | TEN DAM, Laurens | NED | Blanco | +7:21 |
| 14 | ZUBELDIA AGIRRE, Haimar | ESP | Radioshack Leopard | +7:47 |
| 15 | THOMAS, Geraint | GBR | SKY PROCYCLING | +9:02 |
| 16 | RODRIGUEZ OLIVER, Joaquin | ESP | KATUSHA | +9:04 |
| 17 | NIEVE ITURALDE, Mikel | ESP | EUSKALTEL - EUSKADI | +10:39 |
| 18 | BARGUIL, Warren | FRA | ARG | +12:12 |
| 19 | BUSCHE, Matthew | USA | Radioshack Leopard | +13:15 |
| 20 | NERZ, Dominik | GER | BMC RACING | +13:37 |
| 21 | CUNEGO, Damiano | ITA | LAMPRE - ISD | +13:59 |
| 22 | SILIN, Egor | RUS | ASTANA | +15:16 |
| 23 | KENNAUGH, Peter | GBR | SKY PROCYCLING | +17:35 |
| 24 | KOREN, Kristijan | SLO | Cannondale Pro Cycling | +21:55 |
| 25 | PAULINHO, Sergio Miguel Moreira | POR | Saxo Tinkoff | +24:14 |
| 26 | SULZBERGER, Wesley | AUS | ORICA-GREENEDGE | +26:40 |
| 27 | TAARAMAE, Rein | EST | COFIDIS, LE CREDIT EN LIGNE | +27:37 |
| 28 | TALANSKY, Andrew | USA | Garmin-Sharp | +27:39 |
| 29 | VAN DEN BROECK, Jurgen | BEL | LOTTO BELISOL | +28:53 |
| 30 | DE MARCHI, Alessandro | ITA | Cannondale Pro Cycling | +28:54 |
| 31 | BOASSON HAGEN, Edvald | NOR | SKY PROCYCLING | +30:05 |
| 32 | LE MEVEL, Christophe | FRA | COFIDIS, LE CREDIT EN LIGNE | +31:08 |
| 33 | GALLOPIN, Tony | FRA | Radioshack Leopard | +33:04 |
| 34 | WELLENS, Tim | BEL | LOTTO BELISOL | +33:54 |
| 35 | BOOKWALTER, Brent | USA | BMC RACING | +34:48 |
| 36 | SEELDRAEYERS, Kevin | BEL | ASTANA | +36:14 |
| 37 | ASTARLOZA CHAURREAU, Mikel | ESP | EUSKALTEL - EUSKADI | +36:48 |
| 38 | DURET, Sébastien | FRA | BRETAGNE - SCHULLER | +37:26 |
| 39 | MADRAZO RUIZ, Angel | ESP | MOVISTAR | +38:27 |
| 40 | GAVAZZI, Francesco | ITA | ASTANA | +38:42 |
| 41 | FEDRIGO, Pierrick | FRA | FDJ-BIG MAT | +39:04 |
| 42 | TANKINK, Bram | NED | Blanco | +40:27 |
| 43 | IZAGIRRE INSAUSTI, Gorka | ESP | EUSKALTEL - EUSKADI | +41:31 |
| 44 | MARTINEZ DE ESTEBAN, Egoi | ESP | EUSKALTEL - EUSKADI | +41:43 |
| 45 | FLECHA, Juan Antonio | ESP | VACANSOLEIL-DCM | +42:06 |
| 46 | MEERSMAN, Gianni | BEL | OMEGA PHARMA-QUICKSTEP | +43:14 |
| 47 | LOSADA ALGUACIL, Alberto | ESP | KATUSHA | +43:15 |
| 48 | GRIVKO, Andriy | UKR | ASTANA | +43:28 |
| 49 | PIMENTA COSTA MENDES, José Joao | POR | TEAM NETAPP - ENDURA | +47:13 |
| 50 | DIDIER, Laurent | LUX | Radioshack Leopard | +47:17 |
| 51 | HOOGERLAND, Johnny | NED | VACANSOLEIL-DCM | +47:38 |
| 52 | BAGOT, Yohan | FRA | COFIDIS, LE CREDIT EN LIGNE | +47:52 |
| 53 | QUINZIATO, Manuel | ITA | BMC RACING | +48:24 |
| 54 | SERPA PEREZ, Jose Rodolfo | COL | LAMPRE - ISD | +50:15 |
| 55 | GUILLOU, Florian | FRA | BRETAGNE - SCHULLER | +51:37 |
| 56 | GAUTIER, Cyril | FRA | TEAM EUROPCAR | +51:49 |
| 57 | POELS, Wouter | NED | VACANSOLEIL-DCM | +51:53 |
| 58 | LAENGEN, Vegard Stake | NOR | BRETAGNE - SCHULLER | +52:13 |
| 59 | COPPEL, Jerome | FRA | COFIDIS, LE CREDIT EN LIGNE | +54:30 |
| 60 | VEILLEUX, David | CAN | TEAM EUROPCAR | +55:11 |
| 61 | SARMIENTO TUNARROSA, Cayetano José | COL | Cannondale Pro Cycling | +55:39 |
| 62 | CHERNETSKI, Sergey | RUS | KATUSHA | +58:07 |
| 63 | LADAGNOUS, Matthieu | FRA | FDJ-BIG MAT | +59:35 |
| 64 | MOLARD, Rudy | FRA | COFIDIS, LE CREDIT EN LIGNE | +1:00:39 |
| 65 | SEPULVEDA, Eduardo | ARG | BRETAGNE - SCHULLER | +1:01:16 |
| 66 | GARATE, Juan Manuel | ESP | Blanco | +1:03:16 |
| 67 | GERARD, Arnaud | FRA | BRETAGNE - SCHULLER | +1:04:04 |
| 68 | GESLIN, Anthony | FRA | FDJ-BIG MAT | +1:04:31 |
| 69 | LUTSENKO, Alexey | KAZ | ASTANA | +1:04:49 |
| 70 | ERVITI OLLO, Imanol | ESP | MOVISTAR | +1:06:34 |
| 71 | VANENDERT, Dennis | BEL | LOTTO BELISOL | +1:07:16 |
| 72 | CASTROVIEJO NICOLAS JONATHAN, | ESP | MOVISTAR | +1:07:32 |
| 73 | BILBAO, Peio | ESP | EUSKALTEL - EUSKADI | +1:07:58 |
| 74 | MEYER, Travis | AUS | ORICA-GREENEDGE | +1:08:57 |
| 75 | SZMYD, Sylvester | POL | MOVISTAR | +1:09:14 |
| 76 | BODNAR, Maciej | POL | Cannondale Pro Cycling | +1:09:56 |
| 77 | DAMUSEAU, Thomas | FRA | ARG | +1:10:17 |
| 78 | VACHON, Florian | FRA | BRETAGNE - SCHULLER | +1:11:32 |
| 79 | LAGUTIN, Sergey | UZB | VACANSOLEIL-DCM | +1:12:57 |
| 80 | MATTHEWS, Michael | AUS | ORICA-GREENEDGE | +1:13:50 |
| 81 | IGNATENKO, Petr | RUS | KATUSHA | +1:14:40 |
| 82 | IRIZAR ARANBURU, Markel | ESP | Radioshack Leopard | +1:14:51 |
| 83 | SICARD, Romain | FRA | EUSKALTEL - EUSKADI | +1:15:14 |
| 84 | BAZAYEV, Assan | KAZ | ASTANA | +1:15:56 |
| 85 | LINDEMAN, Bertjan | NED | VACANSOLEIL-DCM | +1:16:32 |
| 86 | BARTA, Jan | CZE | TEAM NETAPP - ENDURA | +1:17:50 |
| 87 | CORDEEL, Sander | BEL | LOTTO BELISOL | +1:18:10 |
| 88 | FAIRLY, Caleb | USA | Garmin-Sharp | +1:18:40 |
| 89 | VICHOT, Arthur | FRA | FDJ-BIG MAT | +1:19:25 |
| 90 | VANDBORG, Brian | DNK | Cannondale Pro Cycling | +1:21:54 |
| 91 | KIRYIENKA, Vasili | BLR | SKY PROCYCLING | +1:22:10 |
| 92 | BIDEAU, Jean-Marc | FRA | BRETAGNE - SCHULLER | +1:25:38 |
| 93 | BOECKMANS, Kris | BEL | VACANSOLEIL-DCM | +1:26:43 |
| 94 | QUÉMENEUR, Perrig | FRA | TEAM EUROPCAR | +1:26:50 |
| 95 | FONSECA, Armindo | FRA | BRETAGNE - SCHULLER | +1:28:24 |
| 96 | PATERSKI, Maciej | POL | Cannondale Pro Cycling | +1:28:33 |
| 97 | BONO, Matteo | ITA | LAMPRE - ISD | +1:32:26 |
| 98 | CANUTI, Federico | ITA | Cannondale Pro Cycling | +1:36:53 |
| 99 | BAUER, Jack | NZL | Garmin-Sharp | +1:36:55 |
| 100 | REZA, Kévin | FRA | TEAM EUROPCAR | +1:36:57 |
| 101 | STANNARD, Ian | GBR | SKY PROCYCLING | +1:37:50 |
| 102 | GARCIA AMBROA, Ricardo | ESP | EUSKALTEL - EUSKADI | +1:38:11 |
| 103 | SCHILLINGER, Andreas | GER | TEAM NETAPP - ENDURA | +1:38:58 |
| 104 | WETTERHALL, Alexander | SWE | TEAM NETAPP - ENDURA | +1:42:36 |
| 105 | EIJSSEN, Yannick | BEL | BMC RACING | +1:45:09 |
| 106 | CLARKE, Will | AUS | ARG | +1:45:28 |
| 107 | DOCKER, Mitchell | AUS | ORICA-GREENEDGE | +1:46:28 |
| 108 | ARNDT, Nikias | GER | ARG | +1:48:23 |
| 109 | VALENTIN, Tristan | FRA | COFIDIS, LE CREDIT EN LIGNE | +1:51:10 |
| 110 | RICHEZE, Ariel Maximiliano | ARG | LAMPRE - ISD | +2:00:30 |
Points Classification
| Position | Name | Nationality | Team | Points |
| --- | --- | --- | --- | --- |
| 1 | MEERSMAN, Gianni | BEL | OMEGA PHARMA-QUICKSTEP | 49 |
| 2 | FROOME, Chris | GBR | SKY PROCYCLING | 47 |
| 3 | PORTE, Richie | AUS | SKY PROCYCLING | 32 |
Mountains Classification
| Position | Name | Nationality | Team | Points |
| --- | --- | --- | --- | --- |
| 1 | DAMUSEAU, Thomas | FRA | ARG | 109 |
| 2 | SEELDRAEYERS, Kevin | BEL | ASTANA | 77 |
| 3 | FROOME, Chris | GBR | SKY PROCYCLING | 46 |
Young Rider Classification
| Position | Name | Nationality | Team | Time |
| --- | --- | --- | --- | --- |
| 1 | DENNIS, Rohan | AUS | Garmin-Sharp | 29:32:10 |
| 2 | GENIEZ, Alexandre | FRA | FDJ-BIG MAT | +3:53 |
| 3 | BARGUIL, Warren | FRA | ARG | +8:48 |